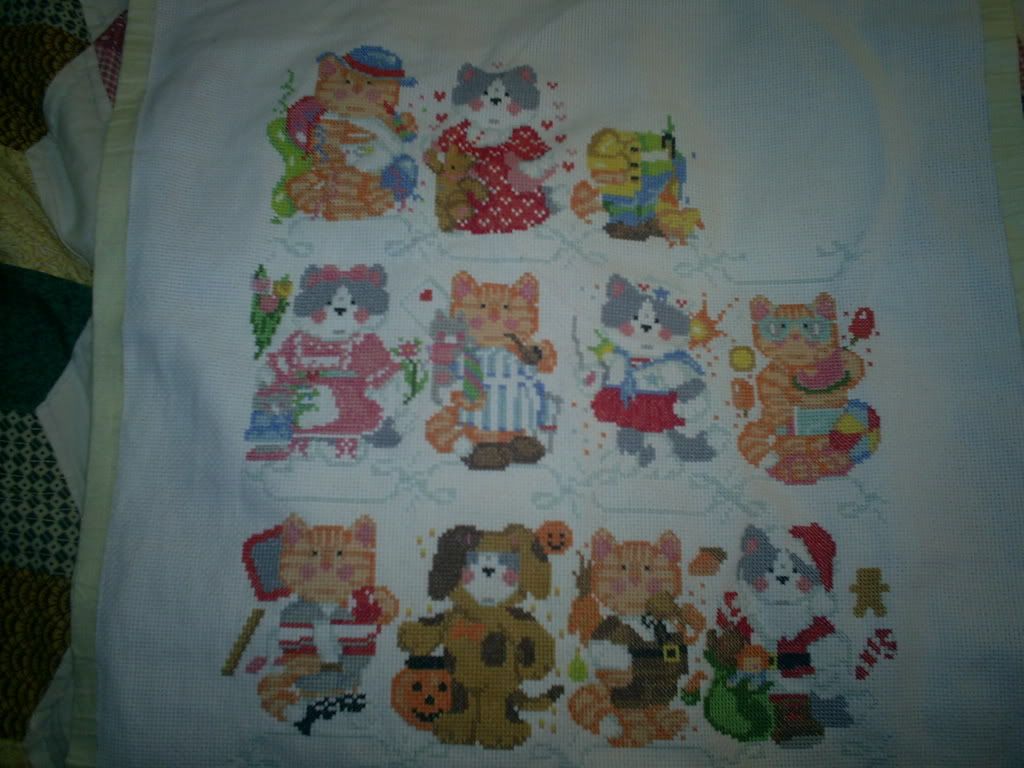 This is one of my current WIPS in cross stitch. I do have one other WIP in cross stitch but don't have a picture of that yet.
This is a kit from Design Works called Calendar Cats. The story behind this is kinda funny to me.
I saw this kit in a needlecraft store called Hook 'N Needle in Westport, CT when my daughter was young (she's now 23). We both thought it was cute. Well I didn't buy it then. But always wished I had. So I began looking for it at all the needlecraft shops I ever went to. Years went by, couldn't find it. Then along came the web....I did a search one day and finally found it. Ordered it from some site in England. Can't remember what I paid, but it didn't matter......had to have it!!!
Years have gone by and I'm still working on it. Just the other day my husband says to me "Why are you sewing something with cats on it? You don't even like cats that much." (This is true, I like dogs better). I said "But look at them. They're cute. I especially like the one dressed up like a doggie."
As you can see I'm almost done with the cross stitch. I have one and half more cats to do then the banner on top. Then on to the backstitching. I don't mind doing the backstitching because it makes the pictures pop out at you. I usually start from the top and work my way down on a project when I'm backstitching.
I'll keep posting my progress now that I know what I'm doing!!!